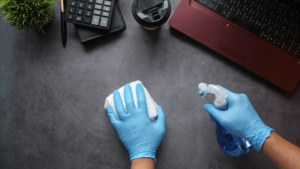 The TLC Home Services team values the work we do for you, and we take pride in providing you with only the best home cleaning experience. From attention to detail to flexibility with your schedule, we're here to make your service run as smoothly as possible. It's our desire that every client leaves completely satisfied with the cleaning job they have received, and we're so grateful to hear so many positive reviews from our clients!
Suzanne's Review
Suzanne Brozek has been a client of ours for seven years. Here's what she said about her experience with TLC Home Services in an online review:
"We hired TLC in 2015 to deep clean our home, then maintain it with monthly cleanings. We have been clients ever since! TLC has worked with us through several life changes over the last 7 years and has always been flexible and understanding of our changing needs. TLC took the time to walk through our home with us and create a detailed work order for cleaning techs to follow. As needs changed, they would meet with us to tweak the work order as needed. Tammy, Steph, Kim and their cleaning techs are always professional, trust-worthy, on-time and respectful of our home. TLC leaves our home immaculate, smelling and feeling fresh every time. I'm so happy that we found TLC all those years ago and would highly recommend them!"
At TLC Home Services, we don't just clean your home – we transition with you and your lifestyle! We care about doing all our cleaning jobs with excellence, and we care about our clients. It's important to us that your home cleaning needs are met, and we will do everything we can to exceed your expectations.
Jennifer's Review
Another client, Jennifer Morrison, also shared kind words about our cleaning services in her review:
"TLC has recently started weekly office cleaning for my business, Sterling Engineering, in Sturbridge. We could not be happier! Especially me, as I was the one cleaning our office after our previous service had to stop due to COVID-19. The team at TLC are consummate professionals. They do as they say, and do so with a smile! TLC is also our go-to for special cleaning projects like windows, deep cleaning, baseboard clean-up (in an office setting this is no small feat), and the like. Five stars all day, every day!"
We are grateful that so many wonderful clients trust us with cleaning their homes and offices, and we're dedicated to continuing to provide fantastic work for every client. For a positive home cleaning experience like Suzanne's and Jennifer's, be sure to contact TLC Home Services! Call us today for a consultation at 508-347-3275.

Contact us for more information on both our commercial and residential cleaning services!