TLC Home Services LLC is a house cleaning service for residential homes and small offices. Our staff is dedicated to reducing the stress of "having to do it all." We understand the time commitment involved in the upkeep of a home, or office! Allowing us to help you maintain it allows you to spend more time building your business, living life, and having the time for being with those you love! We put an extra day into your week!
TLC Home Services LLC is bonded and insured as we are a legitimate company since 2007 and pays taxes. We are also registered with the town of Sturbridge, Massachusetts. We have a reputation to maintain. This means that if a cleaning job isn't done to your satisfaction, you can take the issue up with the company and we will send a management member out immediately to take care of the issue!
What would it feel like if you never had to clean on the weekends again?
Are you thinking how wonderful it would be to wake up on the weekends and not spend it cleaning?  Well, let us make that happen!  T.L.C. Home Services is a women owned business that has been helping people, just like you for 16 years.
Our customers receive the most thorough and professional house cleaning services in your area!  Are you ready for a professional company to take the burden of cleaning from you?  We are confident in guaranteeing our services, whether it be weekly, bi-weekly, monthly or a one-time cleaning.
Shouldn't your home be a safe, healthy haven for you and your loved ones?  T.L.C. uses environmentally safe cleaning products for the safety of your family.  We are a small business with a big heart that cares about our customers!   Call to get your free quote!
Nothing is more relaxing than spending your weekends doing what you love instead of cleaning.  We put an extra day in your weekend!
Experience the TLC Difference…and you won't be disappointed!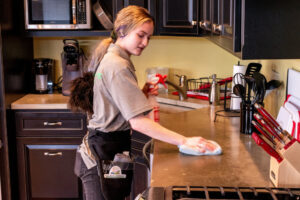 Consider the difference between T.L.C. Home Services and individual cleaners. Many individuals who run their home cleaning businesses are often not bonded or insured. If anything is damaged/broken or the independent cleaner gets hurt in the home, there is little recourse for a homeowner. Independent cleaners often want to be paid in cash or by personal check and normally are under the table.
When hiring a service to clean your home, it's essential to ask the right questions to ensure you choose a reliable and trustworthy provider. Here are the five most important questions to ask, along with additional considerations:
Are you bonded and insured? Bonding and insurance protect you from liability if any damage or theft occurs during the cleaning process. Bonding provides financial coverage if an employee steals something from your home, while insurance covers any accidental damage caused during the service.
How many years have you been in business? The number of years a cleaning service has been in business reflects their experience and stability. A well-established company is more likely to have refined their processes, trained staff, and established a good reputation.
Can you provide references or reviews from other clients? Asking for references or reading reviews from previous customers helps gauge the satisfaction level of others who have used the service. Look for testimonials from clients with similar needs or expectations to get a sense of the company's reliability, professionalism, and quality of work.
Do you offer any guarantees or satisfaction policies? A reputable cleaning service should have clear policies regarding customer satisfaction and guarantees. Ask about their procedures for addressing any issues or concerns that may arise during or after the cleaning. This information will help you understand how they prioritize customer satisfaction.
What type of background checks do you perform on your employees? Since cleaning services often involve granting access to your home, it's crucial to ensure the company conducts thorough background checks on their employees. Ask about their screening process, including criminal background checks and employment history verification, to ensure your safety and peace of mind.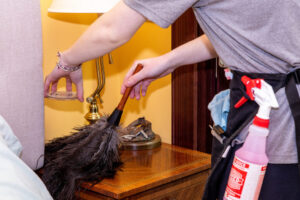 In conclusion, T.L.C. Home Services understands that your home is your sanctuary, and they are committed to treating it with the utmost care and respect. Unlike independent cleaners, T.L.C. Home Services offers comprehensive protection for your home and belongings, providing you with peace of mind. With their bonded and insured status, years of experience in the industry, background checks and positive reviews from satisfied customers, you can trust T.L.C. Home Services to deliver exceptional cleaning services while ensuring the safety and security of your home. Why be disappointed?  Choose T.L.C. Home Services and experience the peace of mind you deserve!
We also have gift certificates for birthdays, anniversaries, baby showers, thank you cards, and more. Give the gift of time to your friends and family!
We offer a wide range of services that cater to both residential and small offices. Take a look and see if our house cleaning services live up to your standards!