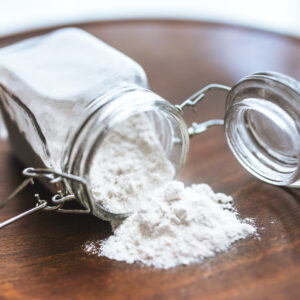 Did you know baking soda can be used for more than just baking? It's excellent for a variety of household uses, but our favorite (of course) is that it makes an excellent cleaner! Here are a few of our favorite ways to use non-abrasive baking soda for everyday cleaning.
1. Glass top stoves
Along with a wet Scotch-Brite Non-Scratch Scrub Sponge and a little dish soap, baking soda is an easy way to wash away dirty, burnt food from your glass stove!
2. Stainless steel sinks
When cleaning your stainless steel sink, use a little baking soda on your sponge to watch your sink sparkle.
3. Trash cans
In between cleaning the inside of your trash cans, you can sprinkle a little baking soda in the bottom to help absorb odor.
4. Silver items
To shine your silverware or other silver items in your home, mix one tablespoon of water with one tablespoon of baking soda to make a paste. Use the paste on a clean cloth and rub your silver to its original shine.
5. Plastic food containers
To remove stains from plastic food containers, try cleaning them using a clean wet sponge and baking soda. For the extra heavy messes, try soaking your containers in a solution of four tablespoons of baking soda and warm water.
It's amazing what an inexpensive, household item like baking soda can contribute to your everyday cleaning routine! For more cleaning tips and tricks, follow along on our blog and social media pages. Or for a full home cleaning that goes beyond the basics, contact T.L.C. Home Cleaning today.

Follow our blog for more cleaning tips and tricks!