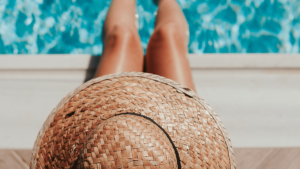 The summer season is a lot of fun. From outdoor gatherings to family trips to backyard barbecues, there's much to do during the summer. With all the foot traffic going in and out of your house, you might notice things getting a little messier, too. We're here to help you master the mess while you beat the heat this summer! Here are some tips for keeping your home clean all summer long:
Tip 1: Designate a Spot for Dirty Footwear
Have one spot where all of your outdoor shoes and sandals go when you're coming in from outside. We recommend keeping the spot near whatever door you use the most, but everyone's house is different so pick the spot that works best for you.
Keeping your outdoor shoes in one area will help to keep your floors cleaner — you won't be tracking in grass or dirt you may have picked up from outdoor activities. It will also make it easier to find shoes when you're heading out to run an errand or spending some time in the sun. 
Tip 2: Clean in Smaller Pieces Over Time
When you notice your home getting dirty, cleaning it can start to feel overwhelming. Instead of spending an entire day cleaning your whole house, clean in smaller pieces of time throughout the week.
For example, find one small cleaning task that you can do each day (something that will take about 15-20 minutes) and one bigger cleaning task you can do each week. If you get into a cleaning rhythm and decide to do additional bigger tasks, go for it! By cleaning in smaller chunks of time, you won't feel as stressed about cleaning, and you'll have an easier time maintaining a clean home.
Tip 3: Pick a "Party Room"
Hosting friends, family, and neighbors is one of the most fun parts of summer. But it can be a little stressful when you have to buy food, plan activities, and clean your house to have guests over. It can be even more overwhelming when someone stops by unexpectedly.
To help with this, pick a room in your home that you would feel comfortable hosting guests in. Straighten it up at the end of every week. Now you have a spot where you can host summer guests. Having it tidy to begin with will make other party preparations less tense.
BONUS TIP: Call TLC Home Services for help cleaning!
TLC Home Services LLC has trained cleaning specialists who can provide a thorough home cleaning for you. Our schedule is flexible, so we find times that work for you as you juggle your summer activities.
We use organic, plant-based cleaners and keep our vacuums fully maintained to provide you with the best cleaning possible. Give us a call today to schedule your cleaning so you can keep a clean home all summer long!

Cleaning doesn't have to be stressful! Follow along on our blog for more tips and tricks.