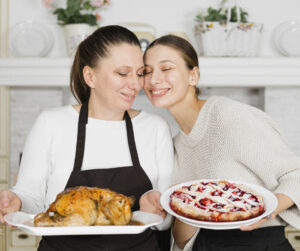 As the leaves begin to change and the smell of pumpkin spice fills the air, you can almost feel the holiday buzz growing. Soon we'll all start to prepare for Thanksgiving and the rest of the holiday season. What better way to get your home ready for Thanksgiving than by booking a home cleaning?
Hosting for the Holidays?
T.L.C. Home Services has a wide range of cleaning services that are perfect for prepping your home for the holidays. We can clean living rooms, bathrooms, guest rooms, and any other spaces you might need for holiday gatherings. Whether you're hosting your extended family for Thanksgiving or having some friends over for a small meal, now is the time to book your cleaning!
Say "Thank You" to Yourself
Maybe you're not hosting any gatherings in your home, but you're looking for a cleaning reset before all of the holiday hubbub. T.L.C. Home Services can give you a clean, comfortable environment so you can prepare for the big turkey day, or so you can rest and recharge after the gatherings are over.
No matter your Thanksgiving plans, we encourage you to give T.L.C. Home Services a call. We can take the stress of cleaning off your plate so you can enjoy more time with friends and family this Thanksgiving. Don't wait — call us today to schedule a home cleaning!

Focus on what matters this holiday season. Let us take care of the cleaning details!