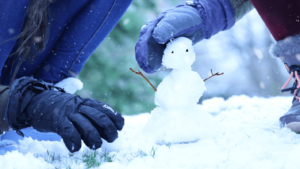 Winter is a unique time of the year, especially in New England. We sometimes can feel guilty to "neglect" some of our indoor tasks, but it's important to make the most of the snowy outdoor activities, too!
As we seek to start off this New Year well, here are a few fun, affordable winter activities to enjoy this year:
Build a snowman or a snow fort
We know snow can get tiring in this part of the country, but take advantage of the beautiful, fresh powder! When you gather together with loved ones to build something fun outside, you're also building memories.
Go sledding or snow shoeing
It's still possible to get some outdoor exercise in these winter months. Grab a sled or some snow shoes, and create your own winter wonderland adventure!
Set up a hot chocolate bar
Invite over a couple of neighbor friends to enjoy hot chocolate after snow activities. Spread out a tray of mini marshmallows, candy canes, flavored creamers and any other goodies you'd like, and embrace the cozy after the cold!
If you're not sure if you can fit in the snow day with all the home cleaning tasks waiting for you, let us take on your house cleaning for you. Let yourself enjoy these wonderful parts of winter, and don't miss another moment with your family and friends. Instead of getting caught up in house chores, embrace the season. We're here for you!
Get in touch with us today to schedule a consultation for a snow day home cleaning!