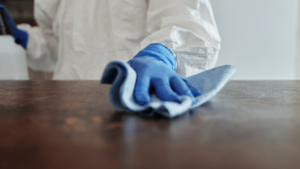 Every cleaning company has their methods and routines as they plan to clean your home. If you haven't yet worked with us, have you ever wondered what TLC Home Services' cleaning routine is?
Today we're giving a little peek into our general cleaning routine. Here's a walk through a typical day of cleaning with the TLC team:
1. Planning & preparation
Each cleaning technician is given a work order which explains all tasks that are to be completed on that assigned day.  The cleaner will know what products and equipment to bring in order to be efficient and do the job well.  All TLC team members are required to wear a mask and practice social distancing if a client is home while we clean. 
2. The cleaning
If it's a two story home, we typically like to start upstairs (or the furthest end of the home if it's a one story home).  Once the top floor has been dusted, cleaned, and disinfected, we vacuum and mop all the way down the stairs. Then, we start vacuuming and mopping at the exit first (allowing it to dry before leaving) and then move to the furthest end of the home, working our way to the exit. 
3. Ensuring satisfaction
Before the employee leaves, they leave a score sheet with their name and a note with how the cleaning went.  The score sheet can be filled out by the customer which rates the employees performance. Customers return score sheets via mail or email and are then put into a monthly drawing. The score sheet will  indicate the customer and their cleaning tech. The customer whose score sheet is chosen will receive $50 off their next cleaning, and the employee who did the cleaning will receive a $50 gift card, as well!
A common way our clients describe our work is "thorough," and that's exactly what we strive for! We are determined to provide all our clients with excellent work, and it's essential to us that you are completely satisfied with your cleaning. For more information about our cleaning process or to schedule a consultation, contact TLC Home Services today!


Want to know more about TLC's cleaning services? Give us a call today!