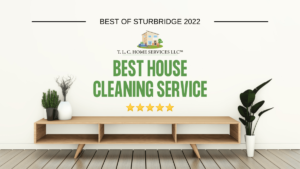 We are so excited to share with you that TLC Home Services LLC has been chosen for Best House Cleaning Service in 2022 Best of Sturbridge! TLC Home Services is so honored to have been selected for a Best of Sturbridge award in the house cleaning category, and we're dedicated to keeping up that reputation!
What is the Sturbridge Award?
Each year, the Sturbridge Award Program honors the achievements and accomplishments of local businesses in the Sturbridge area. Companies who receive this program "have shown the ability to use their best practices and implemented programs to generate competitive advantages and long-term value."
"These are local companies that enhance the positive image of small business through service to their customers and our community. These exceptional companies help make the Sturbridge area a great place to live, work and play." – Sturbridge Award Program
Thank you so much to the Sturbridge Award Program for this great honor! 
You can read the full press release here.

 Learn more about our award-winning services at tlchomeservicesllc.com.