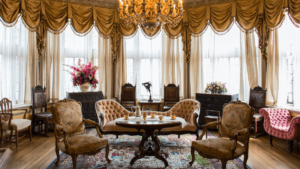 Here's a Cleaning Pro-tip:
Have you ever wondered how professionals dust high style furniture with lots of nooks and crannies? T.L.C. Home Services understands the importance of a job well done. Here's a tip you can use on your furniture to pull all the dust out: clean with make-up brushes! That's right! Good ol' fashion make-up brushes can make your furniture brighter and cleaner.
Make Your High Style Furniture Shine
If you want a little more shine on your high design furniture, use a dry make-up brush to get rid of the dust. Then, spritz a little furniture polish on another make-up brush to clean and polish those nooks and crannies. Follow that with a cloth to remove any excess polish. You can store the make-up brush inside a plastic bag to use the next time you want a little shine. You can also use this technique to clean picture frames.
Deluxe Discount
T.L.C. Home Services loves to tackle nooks and crannies during our Deluxe Cleanings. Call T.L.C. and schedule your cleaning today! Mention this blog when you call to book your cleaning, and we will take 10% off your Deluxe Cleaning.
[button size="medium" style="primary" text="Contact Us" link="https://tlchomeservicesllc.com/contact/" target=""]
Get your 10% Discount off a Deluxe Cleaning!